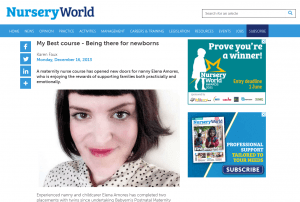 Babyem are excited to be featured in this month's Nursery World Magazine for their Postnatal Maternity Nurse Training. The magazine interviewed Elena Amores who attended the Maternity Nurse Training in September 2013 before going on to support 2 families with twins through our Maternity work experience scheme and has since been offered paid employment by both families! The full Nursery World Article can be viewed HERE.
Gaining Maternity work experience through Babyem
More than 60 families in London have so far benefited in the first three months of having a baby from the support offered by our Maternity Nurses. All candidates are required to have a current DBS check, Paediatric First Aid qualification and references before working with families.
Maternity Nurse Training
The Maternity Nurse Training that takes place over two days and can be completed at level 3 or 4, and accredited through Open College Network, London region.
The Maternity Nurse Training covers topics including:
Health & Care of Newborns, Infant Skin Problems, Baby Illnesses, Colic & Reflux, Caring for Premature Babies, Sudden Infant Death Syndrome, Sleep in Newborns, Infant Soothing Techniques, Winding, Implementing Sleeping and Feeding Routines, Breast Feeding – Positioning/Attachment, Expressing and Overcoming Breast Feeding Difficulties, Health & Care of Post Natal Mums, Postnatal Depression, Gaining Newborn Experience and Finding Employment as a Maternity Nurse.
For more information regarding our 2 day Maternity Nurse Training click here or contact Babyem on: 020 8986 9008 or info@babyem.co.uk