The recent cold snap in the UK created a lot of anxiety for parents. "How to dress a baby in winter" yields over 557 million results on Google, so clearly many people are searching for information on keeping babies warm and safe when the temperature drops.
If you are a parent, or work with young babies, and want to know how to dress a baby in the cold weather – then look no further!
Here are our top tips for keeping babies warm in winter, shared by mother of two, IBCLC and parent educator Charlotte Treitl, and her 8 month old baby, Nova…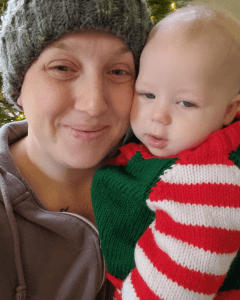 Keeping baby warm when outside or in the pram
Add one more layer than you are wearing
Choose a fleecy or thick onesie to fit over the top – ideally one that has fold-over mittens to cover the hands (see image below)
Always wear a hat! Bonnets are particularly helpful for babies who – like Nova – like to pull their hats off!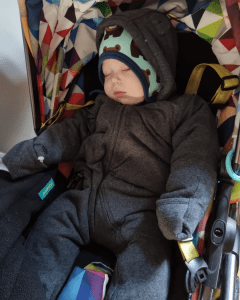 Blankets, mittens, booties, and snoods can add extra warm. A cosy-toes in your pram and additional blankets can keep baby snug and warm.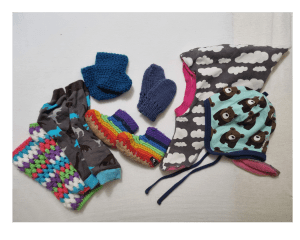 Keeping baby warm when using a sling
When wearing baby in a sling or carrier, we need to consider the sling as an extra layer. It's best for babies to not wear sleepsuits as these can cause tension and pressure on the toes. Footless sleepsuits and socks are ideal.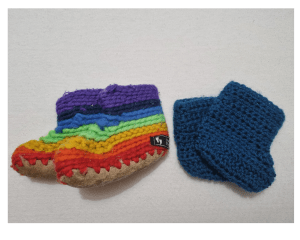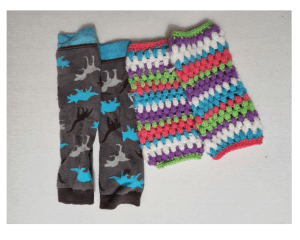 You can add booties, thick socks and/or legwarmers for extra layers.
If you can afford to splash out (or find one second hand!) on a babywearing coat, this also acts as an extra layer.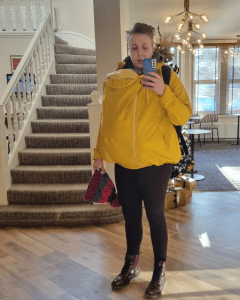 It's best to keep baby close to your skin, and wrap covers over you both, instead of building layers between you – so you can share body heat.
Remember to also follow the TICKS to keep your baby safe when babywearing. You can read more about safe babywearing in our Guide to Babywearing Blog or watch the video below for Babywearing Safety tips!
Keeping baby warm at night
Overheating increases the risk of SIDS (Ponsonby et al. 1992) so try to keep the room temperature between 16 -20°C. At this temperature, your baby should sleep in a long sleeved vest, a full sleepsuit, socks, and a 2 tog sleeping bag. Remember if you use blankets instead that these are safely tucked. If you bedshare, baby should not be put under your duvet or covers, and your body heat should be taken into consideration when dressing for sleep.
Use our quick guide below to help you.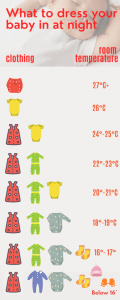 You can learn more about safe sleep at BASIS Online.
You may also find our blog Top 10 tips for keeping your baby safe in a heatwave useful to bookmark for the warmer weather!