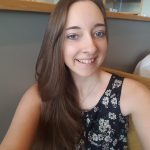 We had a chance to catch up with Holly Austin, one of our maternity nurse training attendees.  Witness how the maternity placement scheme helped her become more confident in her profession.
I went straight from school to training to become a midwife, I did half the training and then had decided to leave before I completed my course. As soon as I left I immediately got a few nanny jobs whilst I was at university, all I knew was that I really wanted to work with newborns.
I came across Babyem's Postnatal Maternity Training course and decided to take the leap. I wanted a course that would teach me as much as possible about ranging from newborn sleep to colic and reflux, from a credible evidence-based point of view!
I thought the course was excellent and our trainer Lyndsey Hookway was fantastic. She answered a lot of questions and gave us a lot of ideas to build on and help be prepared for the maternity world.
As soon as I finished the course I wanted to get started immediately.
So I made sure all my paperwork was up to date – my DBS, First Aid, Public Liability Insurance and two verifiable references. Within the space, on 2 days I was fully booked for the following month with placements with twins, some more complicated cases including a referral from Homestart and the families they were helping after the Grenfell disaster.
I was very emotional after my first placement, I loved every single minute of it. I was working with a new mum with twins and yes I supported her a great deal but honestly, I learned so much in return too.
And not all babies are the same of course, the next set of twins are completely different and have personalities of their own. On both placements I have supported throughout the nights, building my night maternity experience.
"I think the placement scheme has been an excellent opportunity for learning and gaining experience, I love what I do and always knew that I would, and now I have finally got there."